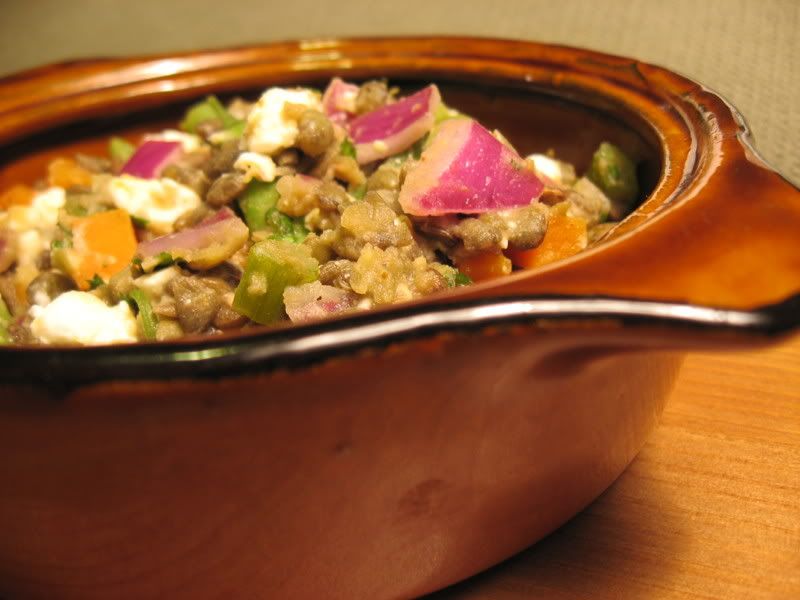 I'm always on the lookout for vegetarian gluten-free recipes that are rich in fiber and protein. This recipe sure meets the requirements, with 11.6 grams of dietary fiber per serving, and 13.6 grams of protein! This is my kosher adaptation of a recipe from user "de Roche" on RecipeZaar - The original called for diced ham.
Puy lentils
are a small, flavorful lentil that hold their shape in salads better than brown or red lentils. They are more expensive than other types of lentils but well worth the cost, in my opinion. If you cannot find them, you can substitute beluga lentils, masoor dal, or brown lentils (which won't hold their shape as well as puy lentils). In the picture you can tell that I overcooked them a bit because I forgot to set the kitchen timer... Oops! Thankfully, the salad was still fabulous.
I used Eden Foods' unsweetened
Brown Rice Vinegar
which is gluten-free, kosher, and organic. You may use a white rice vinegar if that's what you have on hand, and if you prefer you can try one of the "seasoned" rice vinegars which have added sugar.
Use a high quality feta cheese for this salad if you can - It is worth avoiding Athenos or one of the other mass-produced fetas, if possible. I recommend a goat and/or sheep's milk based cheese for the best taste.
PUY LENTIL SALAD WITH FETA
1/2 cup puy lentils
2 bay leaves
1 cup green beans, trimmed and sliced in fourths
1 carrot, peeled and diced
1 stalk celery, diced
2 tablespoons fresh cilantro, finely chopped
1 small red onion, chopped
3 ounces feta, crumbled
2 tablespoons olive oil
2 tablespoons unseasoned rice vinegar
1 teaspoon sea salt
1 teaspoon fresh ground black pepper
Cover the lentils and bay leaves with several inches of water in a saucepan. Bring to a boil, then cover and lower heat. Simmer for 20 minutes or until the lentils are tender. Discard the bay leaf and drain the lentils. Allow them to cool to room temperature.
While the lentils are cooking, chop the beans, carrot, and celery. Steam them for about 5 minutes, or submerge them in boiling water for 1 minutes. They should retain a crisp texture - Do not overcook.
Toss vegetables and lentils together in a bowl. Add cilantro and onion. Combine oil, rice vinegar, salt and pepper. Add dressing to salad and mix well. Stir in crumbled feta right before serving. Serve slightly warm or at room temperature.
Makes 3-4 generous servings.
[Created for Weekend Herb Blogging]