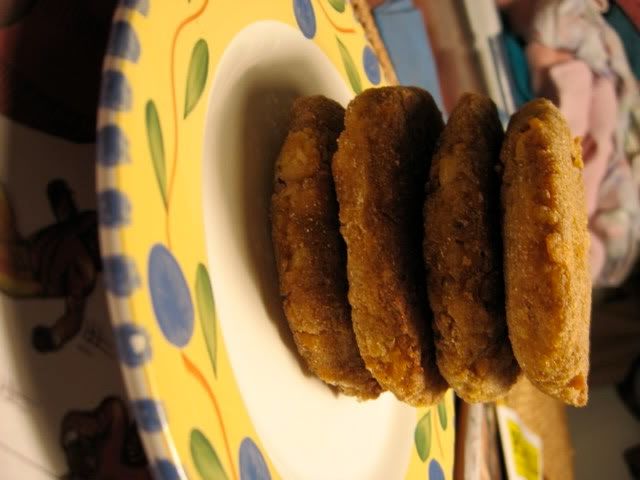 I feel slightly guilty calling these "burgers" - Not because they're vegetarian, but because they just seem too sophisticated for that moniker. The flavors are too dynamic. These firm, protein-packed, slightly spicy patties can stand alone as the "meat" of a meal, and taste as good topped with chutney or salsa as they do with ketchup (I've tried them with all three!) Chipotle aioli seems like it would be a good match, too. These burgers are delicious on a bun, but they beg for a hearty whole-grain bread or a kaiser roll rather than a plain ol' mass-produced hamburger bun. They're not all-American BBQ fare, after all. These are gourmet veggie burgers for grown-ups.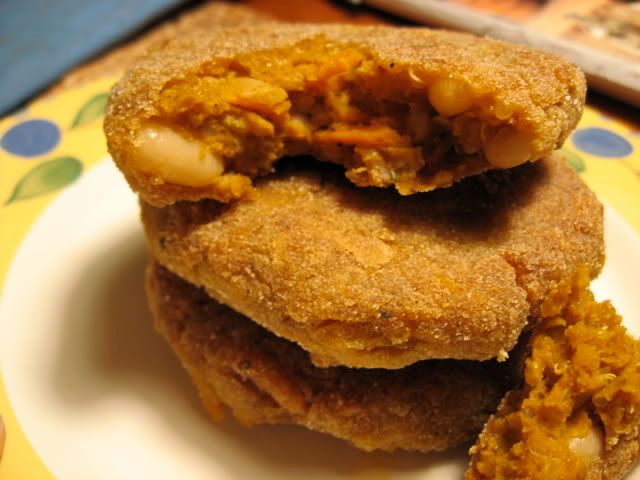 The patties are easy to make, and are a great way to use up leftover quinoa. They are packed with nutrition, and are a great way to get some whole grains into your diet. Got leftovers? Try cutting them into pieces and using them as a filling in a bean and cheese burrito made with a brown rice tortilla (believe me, it's fabulous). They heat up quite well in the toaster oven (though I'd pass on the microwave, for fear of losing their crispy outer crust). I always make an extra batch just so that I have plenty of leftovers to keep in the fridge.
I prefer to use very well-cooked quinoa for this recipe. Though I usually toast my quinoa before cooking it, I didn't find it necessary for this recipe. If you cook it in tomato soup (my preference) or in vegetable broth, the flavor of the burgers will be enhanced - But reduce the salt in the recipe by half. To prepare the quinoa, cook 1/2 cup of quinoa in 1 cup of liquid. Bring to a boil, cover and reduce heat to low. Simmer for 15 minutes or until tender. Remove from heat but keep covered, and allow to continue steaming until very soft and fluffy.
When I was making these, my mother asked what I was cooking. When I told her, she gave me a funny look. Turned out she thought I'd said "quinoa-
kundalini
burgers". So from now on, cannellini beans shall be known as "kundalini beans"!
VEGETARIAN QUINOA-CANNELLINI BURGERS


a/k/a Quinoa-Kundalini Burgers
[ Gluten-Free / Soy-Free / Nut-Free / Vegetarian / Pareve ]


1 cup canned cannellini beans, drained and rinsed
1 cup cooked quinoa, firmly packed
3 cloves garlic, minced finely
1 jalapeno, minced, including seeds
1 tsp fresh thyme
1 cup grated carrot
1 egg, lightly beaten
1/2 tsp salt
3/4 cup sweet sorghum flour
Generous amount of fresh ground black pepper
1/4 cup light olive oil or canola oil, for frying
Additional sorghum flour for dredging
Using the back of a fork, mash the beans slightly (they should not be completely smooth). Add all other ingredients except olive oil and flour. Mix thoroughly with a wooden spoon. Slowly sprinkle in 3/4 cup of sorghum flour, combining until a loose "dough" is formed that is dense enough to be handled (use additional flour if necessary).
In a 12" pan, heat up oil over medium-high heat. Sprinkle 1/2 cup of additional sorghum flour on a plate or in a pie tin. Compress "dough" between your hands to form 1/2" thick patties of about 4" diameter. One by one, carefully dredge them in sorghum flour, making sure the flour is distributed on both sides and along the edges of each patty. Use a slotted spatula to transfer carefully into hot oil. Cook for 3-5 minutes on each side, or until golden-brown and slightly crisp. In between batches you may want to replace the oil. Remove burgers from oil and place on a plate lined with paper towel or pieces of brown paper bag to absorb excess oil. Serve hot.