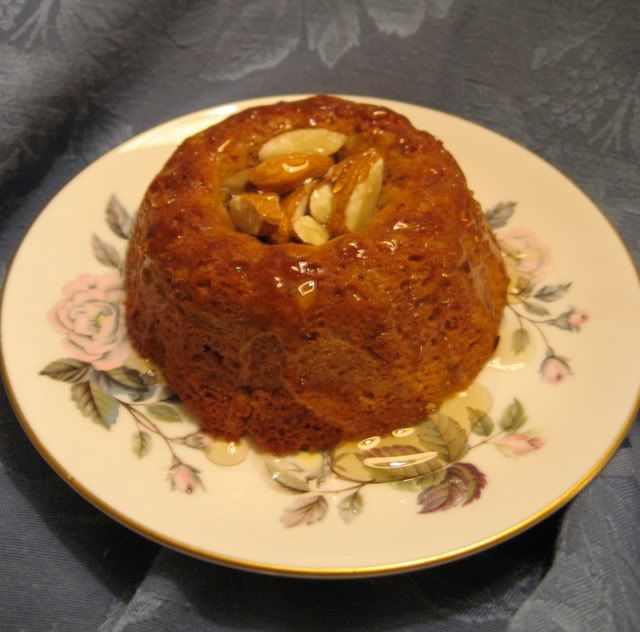 My first recipe for
Gluten-Free Honey Cake (Version 1.0)
was the second recipe I ever posted to this blog. In honor of how far my own culinary journey has evolved since starting this blog nearly a year ago, and to celebrate my boundless love for
Rosh Hashanah
fare, I have revamped my gluten-free, wheat-free honey cake recipe. Though quite delicious, my last recipe used Pamela's Ultimate Baking & Pancake Mix, which doesn't have a reliable hechsher, and was dairy and therefore useless for most festive Jewish New Year meals, which feature meat. This new and improved Honey Cake 2.0 is pareve (non-dairy) and doesn't use a mix. It is every bit as delightful in its orange-tinted honey flavor and moist texture, but it lends itself better to the traditional Rosh Hashanah dinner table.
The mini-cakes pictured were baked in adorable little individual silicone fluted cake pans that I found at the dollar store in New Paltz. However, I have made this recipe in a 9" round cake pan and a standard-sized bread loaf pan, and had terrific success both times. I have posted the approximate baking times for several sizes, so you can use whatever baking gear you have on hand. I really do recommend the miniature individual cake pans, the resulting cakelets are so cute and so easily embellished with fruit or nuts placed in the hollow center. You can try a miniature silicone bundt pan like
this
or miniature fluted cake pans like
this
. I don't normally use silicone for baking, however the high amount of honey in this recipe leads to edges getting burnt extremely quickly, so I've found that to keep the outside of the cake golden and tender, avoiding burning and crispyness, silicone is best. Nonstick metal cake pans or bread tins are the second best choice, or use parchment paper to line a regular metal pan.
I recommend using a rich, flavorful honey for this recipe, especially for the "glaze". Honey alone is a flavorful and moist enough topping for my taste, but you can also try sifting powdered sugar over the cake/s, or try any recipe for a bundt cake glaze. Boiling down some honey mixed with orange juice and orange zest would make a glaze perfectly complementary to the flavors in this cake.
I hope this cake recipe brings some sweetness to your new year. L'shanah tovah!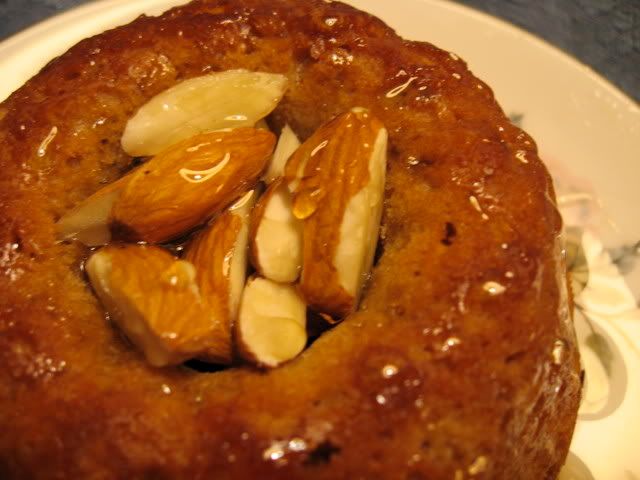 GLUTEN-FREE ROSH HASHANAH HONEY CAKE (Version 2.0)

[ Gluten-Free / Soy-Free / Nut-Free Option /
Dairy-Free / Pareve ]


3 cups
Carol's Flour Blend
3/4 cup turbinado sugar or white sugar
2 tsp gluten-free baking powder
1 tsp baking soda
1 1/2 tsp xanthan or guar gum
1 tsp salt
1 tsp ground cinnamon
1/2 tsp ground nutmeg
4 eggs
1 /4 cup vegetable oil
1/4 cup applesauce
2 tsp finely grated orange zest
1 cup honey
1 cup orange juice

Optional: Honey, toasted almond slivers, pecan pieces and/or powdered sugar for topping

Preheat oven to 350 F (175 C). Cover the bottom of a 9" circular baking pan with parchment paper, then spray the inside of the pan lightly with dairy-free baking spray. If making miniature cakes using silicone mini-bundt or mini-fluted cake pans, place pans on a baking sheet and spray lightly with baking spray. Well-greased loaf pans may also be used.

Stir together flour mix, baking powder, baking soda, nutmeg, cinnamon, salt and sugar in a medium bowl.

Separate the eggs. In one large mixing bowl, combine egg yolks, honey, oil, applesauce, orange juice and orange zest. In a separate medium bowl, beat egg whites with an electric beater until they form stiff peaks.

Using a whisk or hand beater, slowly add the flour mixture to the wet mixture. When thoroughly combined, fold the egg whites carefully into the batter, stirring very gently just until the ingredients are fully combined.

Immediately pour batter into pan/s and bake for approximately 20 minutes (for miniature cakes), 40 minutes (for round cakes) or 45-50 minutes (for loaves), or until a toothpick inserted into the cake's center comes out with just a few crumbs on it. Watch cakes carefully to make sure that the edges do not burn. Remove cakes from oven and allow to cool before carefully removing from pan/s and placing onto a cooling rack. For bundt and fluted pans, once the cakes are cool you can use a sharp serrated bread knife to gently remove the domed "bottoms" of the cakes (the side facing up when you baked them) so that they pretty cake "tops" can sit flat on a plate, if you wish.

Immediately before serving, fill bundt/fluted cake centers with nuts or fruit (if applicable) and sift powdered sugar over them or drizzle cake/s with additional honey.