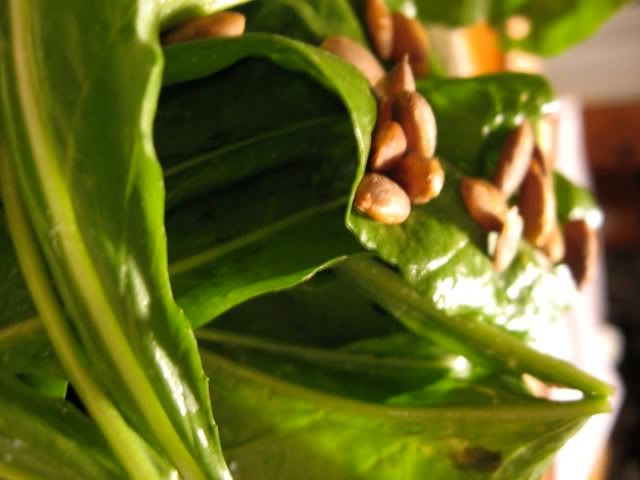 This week has been a whirlwind, so the roundup post for the
Cooking for Karina
event roundup post is a little delayed, though it's on its way. Thanks to all the wonderful people who participated! You all will be amazed at the variety of recipes people offered up. Of course, I had to make my own contribution. The past week and a half found upstate New York in a pretty intense heatwave, which was a good excuse to create a new installment of
my Uncooking series
of no-heat or low-heat summertime recipes, this one dedicated to Karina, the
Gluten-Free Goddess
.
The arugula that inspired this recipe is from my garden. My principle for my vegetable and herb garden is that it should be built around things that are overly expensive to buy at the store. Thus my garden is full of fresh herbs that are hard to find at the market (or cost $2.99 for a little bunch that isn't particularly fresh), greens like arugula and gourmet mixed baby lettuce and rainbow chard, and leeks - lots of leeks. Arugula has such a delicious fresh and peppery bite. In the past I was intimidated by arugula's bitterness, so I always sauteed it lightly, but this week it was high time to learn to love the zippy-ness. After all, everything tastes good when you grow it yourself, right? I wanted the unique taste of the arugula to feature prominently in this recipe, so unlike my usual tendency to add all manner of mix-ins to my salads, I added only freshly toasted, unsalted pepitas (pumpkin seeds). Citrus compliments arugula like nothing else, so I based my dressing on fresh squeezed grapefruit juice I extracted with a wooden reamer-- no need for a juicer if the grapefruit is ripe enough. The dressing add's just enough sweetness to the salad.
To accommodate Karina's soy allergy, she could use a soy-free chickpea or azuki bean miso such as the ones made by
South River Miso
(which is made in small batches and is not shipped during the summer but is available the rest of the year through mail order) or
Miso Master
(widely available, hekshered kosher). Bon appetit, Karina! May these new limitations on your diet open up new doors to health and culinary creativity.
ARUGULA SALAD WITH TOASTED PUMPKIN SEEDS & GRAPEFRUIT-MISO DRESSING[ Gluten-Free / Soy-Free / Nut-Free / Vegan / Pareve ]
SALAD:
4 cups fresh arugula, rinsed and dried
1/2 cup pumpkin seeds (pepitas), unsalted and untoasted
Optional: Grapefruit segments, pith and membranes removed.
DRESSING:
3/4 cup pink grapefruit juice (preferably fresh-squeezed)
2 tsp miso paste
1/4 cup extra virgin olive oil
Optional: 1/4 tsp garlic powder
Toast pumpkin seeds in toaster oven or on an ungreased skillet over low heat until they start to pop and become slightly browned. Remove from heat immediately and move to a small bowl.
In another small bowl, whisk dressing ingredients with a fork until well combined. Place a small amount (approximately 1/4 cup) at the bottom of a salad bowl. Add greens, and use tongs to gently brush the greens through the dressing without crushing the leaves. Each leaf should be very lightly coated with dressing. Place individual servings on plates or in bowls, and sprinkle with pepitas. Garnish with grapefruit sections if desired.
VARIATION ON A THEME
:
There was leftover arugula so I came up with another salad using the same greens and dressing, but with different add-ins:
-Red bell pepper, cut in strips
-Pear, thinly sliced
-Celery, thinly sliced
-Kalamata olives
Voila: