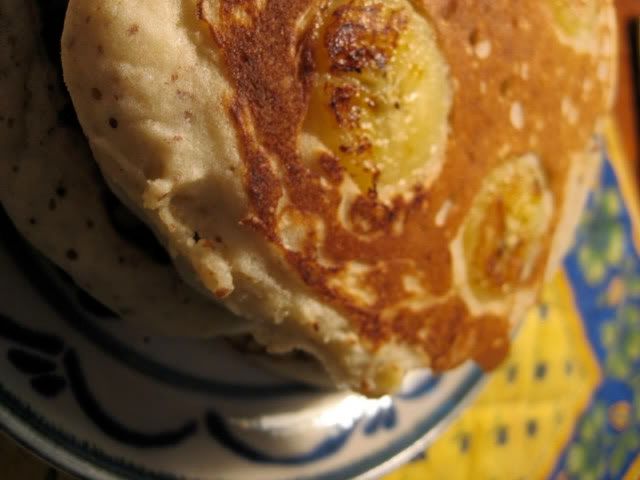 There are endless variations possible for breakfast pancakes. While I do make pancakes from scratch sometimes, I've found that I really prefer the pancakes I make with Pamela's Ultimate Baking and Pancake Mix*. For those who haven't already discovered this, Amazon has a great deal on
a case of 6 bags
... and hallelujah, Pamela's also now makes a
a 4-pound bag
, which is fabulous for those of us who use this as an all-purpose mix for most of our baking needs. Though I do make
my own flour mixes
, I love the convenience of Pamela's mix so I always keep a bag of it on hand. For pancakes, it can't be beat... Though you know I'll keep trying!
I know a few of you are still waiting for my plantain pancake recipe. I haven't forgotten. When a cool morning and a well-ripened plantain coincide in my kitchen I will recreate that recipe to share with you all. But in the meantime, fix yourself a stack of gluten-free banana pancakes while singing
this little ditty
, share them with a loved one, and dig in. I enjoy these with tart blackberry jam spread on them and real maple syrup drizzled on top.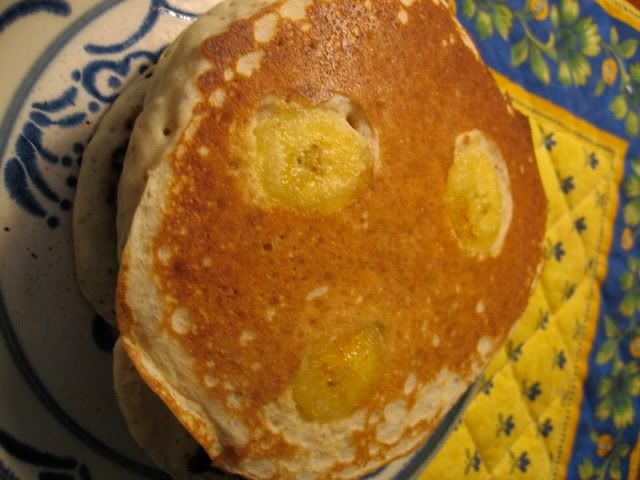 BANANA MEDALLION PANCAKES


[Gluten-Free / Soy-Free / Vegetarian / Milchig]
1 cup Pamela's Ultimate Baking and Pancake Mix*
1 large egg
3/4 cup low-fat milk or rice milk
1/2 tsp cinnamon
Dash of nutmeg
1 tablespoon vegetable oil
1 large ripe banana
Cut bananas in 1/4" rounds. Mix all ingredients except bananas together until smooth. No lumps should be visible. Heat a nonstick griddle over medium heat - If you use a griddle that isn't nonstick, grease lightly with additional vegetable oil or spray with cooking spray. When the griddle is hot, pour approximately 1/4 cup of batter onto it. Immediately place 2-3 banana medallions on top of each pancake. Allow to cook until the bottom of the pancake is golden brown and the edges begin to firm. Flip carefully and allow the second side to cook. Serve hot. Leftovers can be cooled and stored in ziploc bags, and reheated in microwave or toaster oven.
*Edited 3/09 to add: Pamela's baking mixes are
under kosher supervision
but are not certified by a mainstream kosher certifying agency, so most people who keep strictly kosher kitchens will want to use another gluten-free pancake mix such as
Gluten-Free Pantry Brown Rice Pancake Mix
. I no longer use Pamela's products in my house since I now have a more strictly kosher kitchen. If in doubt, check with your rabbi!