Last Friday I came home to a FedEx package from
Enjoy Life Foods
waiting on the porch. That sure was a great way to start shabbos! The company made a very smart PR move by sending product samples to a couple of us gluten-free bloggers.
I was skeptical about
Enjoy Life Foods Rye-less Rye Gluten-Free Sandwich Bread
because I have had mostly negative experiences with Enjoy Life products in the past. I find their chocolate chips to be undersized, chalky, and practically unmeltable... And in my opinion, their cookies do not deserve to be called "cookies." I was also skeptical because of my high standards for rye bread. As a New York Jew I grew up eating a lot of Jewish rye bread. My favorite sandwiches in high school were melted cheddar cheese on Jewish rye, hummus on Jewish rye, or tuna salad on Jewish rye. It was a sad day when I learned that rye contained gluten, and therefore was one more grain I could no longer eat. Back when I was eating gluten I liked my rye bread to have a chewy crust and a soft, squishy center. Most importantly, it must be full of whole caraway seeds. Since becoming gluten-free, my standards for bread have certainly become less strict. But I was pleasantly surprised! Though certainly not the "real thing," the Rye-less "Rye" Bread came a heck of a lot closer to what I remembered than I ever would have expected or imagined. It had the perfect amount of caraway seeds. When well-toasted (careful, because it goes from well-toasted to charred very quickly!) it had a really nice texture and is actually one of the better gluten-free storebought breads I've tasted. It unfortunately does not have the chewy, shiny crust that I associate with rye bread, but I really enjoyed the taste. I can't begin to tell you the joy I felt eating my first tuna on "rye" sandwich in eons.
I'll write about some of Enjoy Life's other allergen-free products (which can be purchased
here
) at a later date. For now, let me leave you with a recipe for my favorite tuna salad. This is a reduced-fat tuna salad that tastes wonderful on rye bread, real or fake. My favorite way to serve this sandwich is on toasted bread with a slice of tomato, a slice of avocado and some lettuce. A pickle on the side, of course. The chopped pickles and dill are key to the fabulous taste - The more sour the pickles the better (cornichons are great for this). You can try substiting a smaller amount of dried dill if you don't have access to fresh herbs.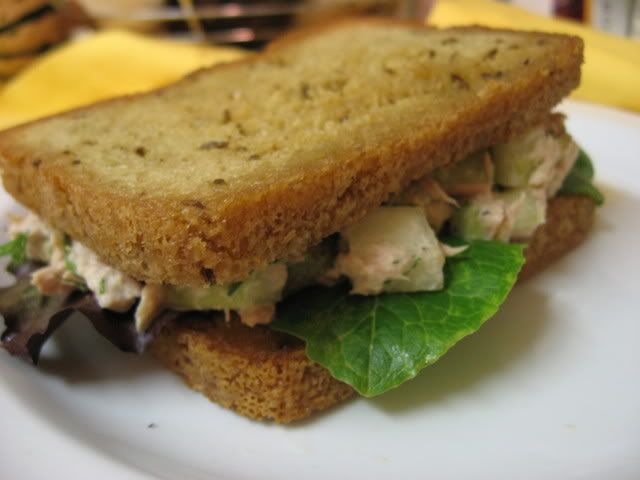 TASTY REDUCED-FAT TUNA SALAD
1 (6 ounce) can solid albacore tuna in water
1 stalk celery
2 tablespoons finely diced sour dill pickles
1 1/2 tablespoons mayonnaise (real mayo, preferably Hellman's)
1 tablespoon lemon juice
1 teaspoon Dijon mustard
2 teaspoons fresh dill, minced
fresh ground black pepper (generous amount)
Drain tuna. With a fork, break it up in a bowl into the size and texture you prefer (I like to leave some chunks - others prefer it totally mashed). Add all the other ingredients and stir until fully combined. Serve cold in a sandwich or over a green salad.