I grow collards in my garden: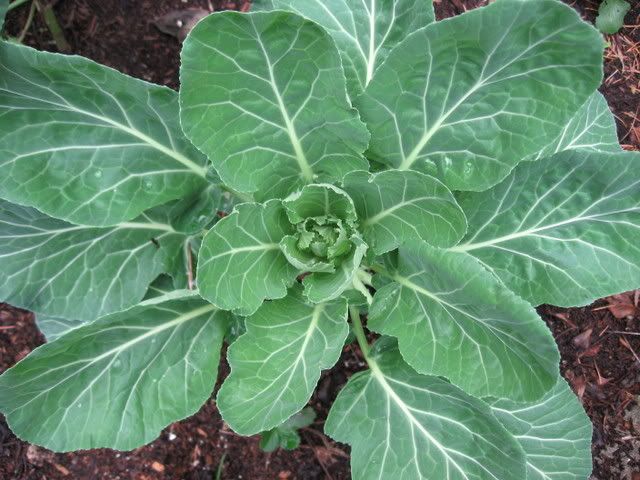 And I grow collards on my porch: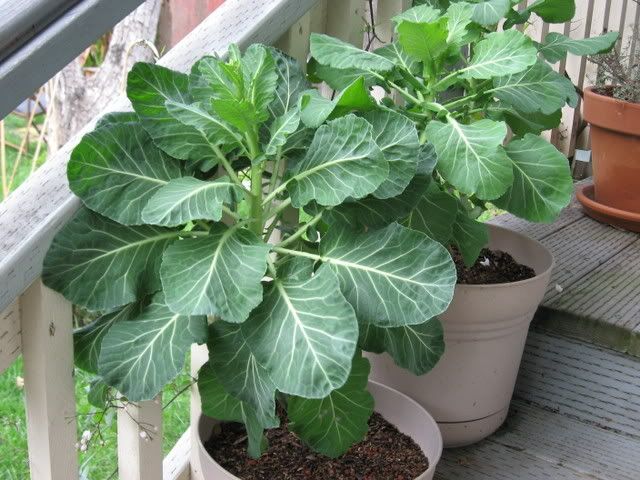 I love collard greens, and they sure make my body happy.
Here in Northern California, February is a great time to buy, or harvest, various hardy green vegetables and cabbage-family veggies that thrive in the winter weather. I harvested 2 whole pounds of collards from my garden last week and cooked them up for this week's submission to the
Anti-Oxidant Rich Foods / 5-A-Day Tuesday
blogging event. They are very tasty by themselves or with rice and beans. I'll be enjoying for days to come. Feel free to cut this recipe in half, of course, if you don't want a week's worth of greens on your hands!
Part of why these greens turned out so deliciously is that I used my
Victorious Vegetable Stock
, which is incredibly flavorful and rich. However I'm sure they'd turn out fine and dandy with one of the less flavorful storebought stocks. The smoked sweet paprika in these greens imparts a wonderful smoky flavor without the traditional but decidedly non-kosher and non-vegetarian smoked ham hock.
Whatever you do, don't discard the
pot liquor
! It is full of the nutrients and flavor that have leached out of the greens during cooking, and makes a very full-bodied and rich broth you can use as a replacement for water when making rice (my favorite), as the base for soups or stews, or in any other savory dish that requires broth or water.
EASY VEGETARIAN COLLARD GREENS


2 pounds of collard greens
4-5 cloves of garlic, minced
1 large onion, chopped
3 cups vegetable stock
1 teaspoon salt (to taste)
1 teaspoon smoked sweet paprika
1/2 cup apple cider vinegar
Optional: Hot sauce or red pepper flakes


Wash greens well, submerging in a sink full of cold water to remove any dirt and grit. Drain well. Cut off the stems right where the leaf starts. Stack about 5-8 leaves on top of eachother, then roll lengthwise. Cut rolled up leaves into 1" slices widthwise. Repeat until all the greens are done, and add to a large pot.

Add all other ingredients. Cover and bring to a boil over high heat, then reduce heat to a simmer. Simmer for 45 minutes or until greens are extremely tender. Serve hot, using a slotted spoon to drain the liquid from the greens.