For the
Adopt-a-Gluten-Free-Blogger
event, it was only natural that I'd choose to adopt Naomi Devlin of
Straight Into Bed Cakefree and Dried
. Naomi is a homeopath, mom, and baker from the UK. Her approach to cooking and baking feels familiar to me, because it's similar in many ways to mine. She is one of the bloggers whose recipes resonate with me the most, in her use of whole-grain gluten-free flours and nut meals, her adventurous exploration of new flavor combinations and textures, and her preference for natural sweeteners and nutritious ingredients. I love reading the blogs of cooks who are more likely to post an innovative and healthy recipe that introduces me to new flavors and textures than a recipe that's yet another nutritionally empty gluten-free clone of the usual standard American (or Western European) fare. I rarely bake these days for a variety of reasons, but Naomi's pita recipes were too tempting to pass up.
I made Naomi's recipe for
Teff Pita Breads
. Though I've had gluten-free falafel, I haven't had a pita bread since stopping eating gluten. It was such a thrill to take these out of the oven and see that they had, indeed, puffed up into pocket breads! (Well, about half of them did at least). They were tasty as can be, especially straight out of the oven. Over this past week I've eaten them stuffed them with hummus, with cheddar cheese, and with peanut butter, bananas and a drizzle of local honey. They were fantastic every which way.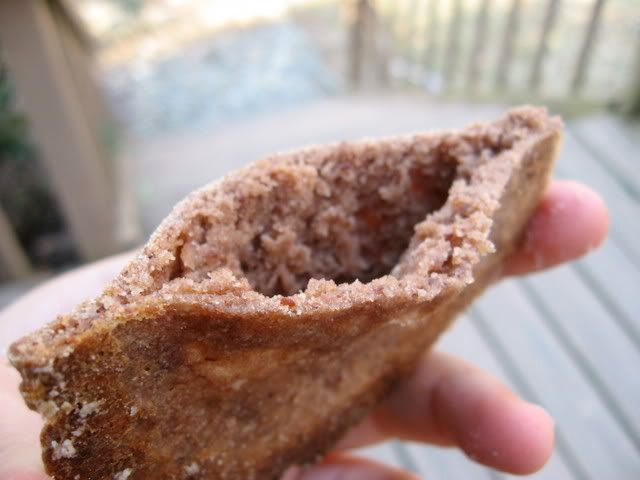 I can't wait to try her other pitas. Here is a list of Naomi's gluten-free pita bread recipes:
Teff Pita Breads
Dark Coconut Pita Breads
Roasted Sweet Potato Pita Breads
Thanks for sharing your terrific recipes with the gluten-free blogosphere, Naomi!