I got some e-mails asking me about the pie pictured in the post on my
Pecan-Quinoa Streusel Crumble Topping
. That's an apple-quince pie! I would have posted the recipe sooner if I hadn't been gallavanting around New York City with a bunch of gay Jews this weekend. Have you ever cooked with
quince
? It's a hard autumn fruit that looks like a hard and somewhat lumpy cross between an apple and a pear. It tastes unpleasantly astringent when raw but is delicious when cooked down with plenty of sweetener (agave nectar, in my case), and has a flavor that is fragrant, mild and apple-y. The texture is firmer and more grainy than an apple, which makes it stand up well to a long cooking time. Apples and quinces are lovely together. Quinces take much longer to cook than apples, so cooking them together results in an apple-quince "sauce" with a wonderful consistency - The apples will nearly dissolve into sauce while the quince retains just enough of its firmness to give the filling a good bite and appearance. I discovered later that I used unripe quinces, so keep an eye out for yellow quinces rather than the green ones I used, and they will take less time to cook.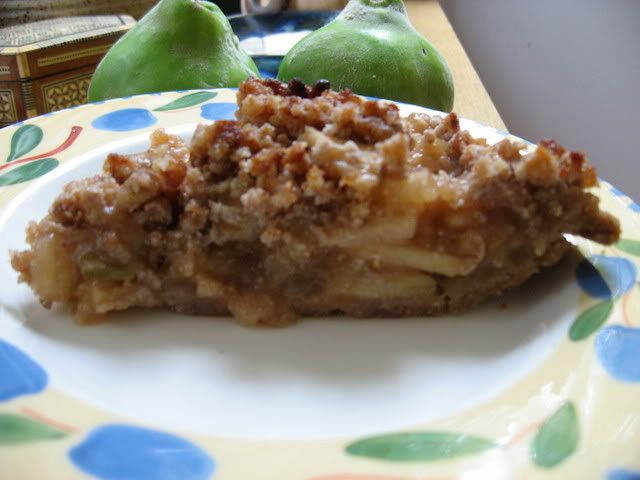 The pie was fantastic, if not entirely photogenic. I used the
Natural Feast Gluten-Free Frozen Pie Shells
again. As I mentioned
in this post
they are gluten-free, vegan, kosher (pareve) and free of refined sweeteners. They are also free of soy and nuts. They're no replacement for a homemade crust, but they work well in a pinch. Since they come in packages of two, I had one left after making that delicious apple-raspberry pie, so I used the remaining one for this pie. This recipe calls for a pre-baked crust - If you use the Natural Feast crust, follow the directions on the package for baking it without a filling, but cut the baking time in half, then remove the crust from the oven and fill it with the fruit filling. Once you fill it, put a piece of tin foil underneath and fold the edges up so it creates a loose partial tent around the pie, with the top open. This will keep the edges from burning.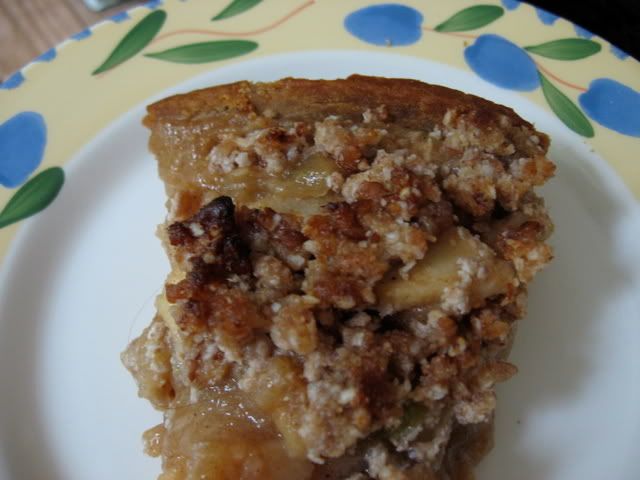 You will likely have some leftover filling, but that's intentional on my part. I think the filling is just too good to only be inside one little pie. Eat the leftovers cold, like applesauce - Or mix with yogurt. Better yet, put them in ramekins, sprinkle with leftover
crumble topping
, and bake in the oven or toaster oven until the topping has browned slightly. An easy breakfast or dessert. Who needs a crust, really?
APPLE-QUINCE PIE[Gluten-Free / Pareve / Soy-Free / Vegan ]
5 quinces
8 granny smith apples
1 tsp ground ginger
1 tsp ground cardamom
1 Tbsp pumpkin pie spice mix*
1/2 tsp salt
1 tsp fresh lemon juice
1/2 cup apple cider
1 cup agave nectar, sugar or honey
2 Tbsp sweet rice flour**
1 Tbsp margarine (or butter) cut into small pieces
1 recipe
Pecan-Quinoa Streusel Crumble Topping
Preheat oven to 375 F.
Peel apples and quinces, core them and cut them in thin slices - You can use an apple slicer for the apples, but make sure the quince is cut as thin as possible. Add all ingredients to a large pot, and bring to a boil. Cover the pot, reduce heat to medium-low, and simmer until the fruit is tender (about 20-30 minutes), stirring occasionally.
Pour the fruit mixture from the pot into a mixing bowl, and slowly sift in the sweet rice flour, making sure to mix it in evenly so there are no lumps.
Pour fruit mixture into a partially pre-baked pie crust. Use your fingers to crumble the streusel topping across the entire top of the pie. Arrange small pieces of margarine across the top, and bake for 20-20 minutes, or until the topping is golden-brown and the filling is bubbling. Remove from oven and allow to cool before serving.

*You can buy pumpkin pie spice mix from any spice company, or make your own.

**Sweet rice flour is not the same as white rice or brown rice flour, which are not good thickeners. You can find it at most Asian markets as well as some health food stores. It is sometimes called sticky rice flour, glutinous rice flour (yes, it's gluten-free!) or oriental rice flour. You can buy it online here.