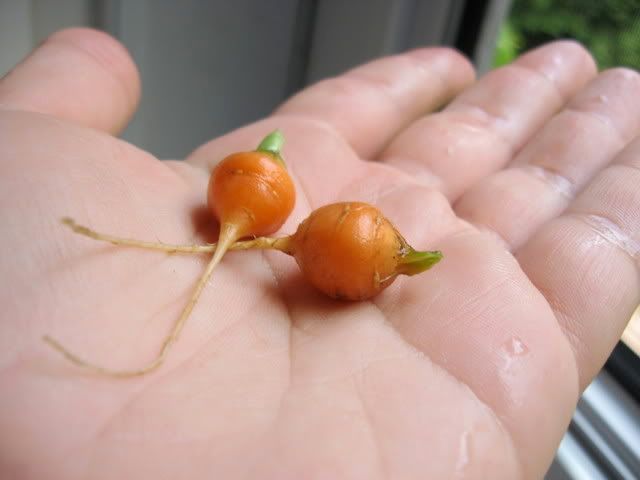 Writing this recipe round-up has made Randy Travis' song "
Too Gone for Too Long"
play on a loop in my head. I hope I haven't been too gone for too long to make a comeback with another episode of the
Semi-Weekly (Ha!) Gluten-Free Recipe Roundup
. Forgive me for dropping the ball - And many thanks to
Seamaiden
for picking up the slack. I'd like to draw everyone's attention to her beautiful and innovative
Buckwheat Crepes with Lowfat Creamy Mushroom Filling
- They are a great example of innovation in presentation, and they are nutritious, to boot. The weather has cooled down enough for me to get excited about cooking and baking again, and I have some time on my hands before school craziness begins, so I thought I'd give you a taste of the most intriguing gluten-free recipes on the blogosphere. By the way, if you're wondering what that picture is... It's itty bitty baby
Romeo carrots
. I was thinning my carrots and these are the "thinnings" - Candy-sized carrots that are sweet as can be. The big ones are might tasty, too.
Disclaimer: As usual, there are recipes on here that call for ingredients that can be found in both gluten-free and gluten-laden versions (soy sauce, breadcrumbs, etc). There are also ingredients that can be found in kosher and non-kosher versions (and of course milchig and fleishig and pareve). I haven't checked over every ingredient list with a fine-toothed comb, so be sure to check labels, and be creative!
Bon appetit.