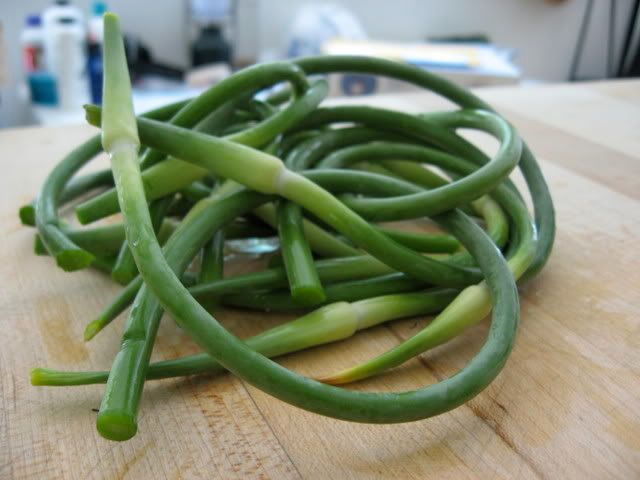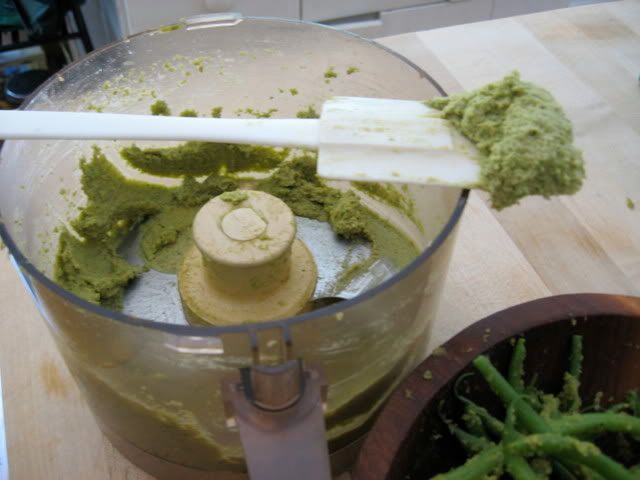 Dear readers, please forgive my seasonal inappropriateness.

I tend to eat, and blog, both seasonally and locally as much as possible. My recipes reflect that. This pesto is something I made back in early July. I wrote the recipe down and photographed it, but never did anything with it. Today I was daydreaming about this pesto's delightfully complex balance between the sharpness and sweetness of garlic scapes and the nutty comfort of toasted pumpkin seeds (pepitas), and I realized that though garlic scapes are now out of season (June is the prime month for them in most places), I should blog about this recipe before I lose the envelope it's scrawled on. So I hope you'll pardon me for blogging about a delicacy you can't obtain. See this as a reminder that as summer starts to wind down it is a perfect time to start thinking about what we look forward to cooking next spring and summer, or use it as an impetus for some of you gardeners to consider adding garlic to your garden plans for next year!

Since most of us don't follow recipes without tweaking them a bit, it occurred to me that this recipe could be a great jumping-off point for some experimentation. Maybe this recipe would be fabulous with lightly sauteed scallions and/or roasted garlic instead of scapes. Or with lightly steamed green beans pureed into the pesto with raw garlic. I can imagine that roasted leeks would also be a wonderful replacement for scapes. As far as I'm concerned, finding replacements for seasonal ingredients is always an enjoyable challenge.

"What is a garlic scape?" ask the uninitiated, whose ranks I was a member of until this year. Why, I couldn't explain it any better than this Washington Post blogger, who writes:

The "scape" in question is hardly a typo or a secret code word; it's shorthand for garlic scape, a part of the garlic plant that is a garlic lover's nirvana.

Here's the anatomy lesson: Garlic and its relatives in the allium family, (leeks, chives, onions) grows underground, where the bulb begins its journey, soft and onion-like. As the bulb gets harder (and more like the garlic we know), a shoot pokes its way through the ground. Chlorophyll-green like a scallion (maybe even greener), the shoot is long and thin and pliable enough to curl into gorgeous tendrils.

This stage of growth is the garlic scape, folks. If left unattended, the scape will harden and transform from green to the familiar opaque white/beige color of garlic peel. Keeping the shoot attached will also curtail further growth of the bulb. So, in an effort to allow the garlic to keep growing, the farmer is getting a two-fer with this edible delectable that cooks are just beginning to discover.

The pesto I created is vegan, and truly has no need for the usual parmesan cheese. It is sharp with garlicky flavor from the scapes, which mellows over time. The nutty flavor of the toasted pumpkin seeds is just wonderful. This pesto can last for quite a while in the refrigerator. Try it tossed with steam vegetables, or mixed with steamed rice or quinoa. Spread it on fish before or after grilling or broiling. Mix it with hot Tinkyada brown rice pasta. Thin it with some additional olive oil and/or water to create a more saucy pesto that can be poured over salad, meat, fish, vegetables or grain dishes. Use it as a sandwich spread, or eat it alone on a crusty piece of bread. This is a versatile alternative to classic basil pesto or my fresh and clean tasting summery Cilantro-Lemon Pesto. I hope that next spring/summer when you see garlic scapes at your local farmers' market you'll remember this recipe and look it up... Or create an even more exciting use for these beautiful green spirals curlicues, and share it with us!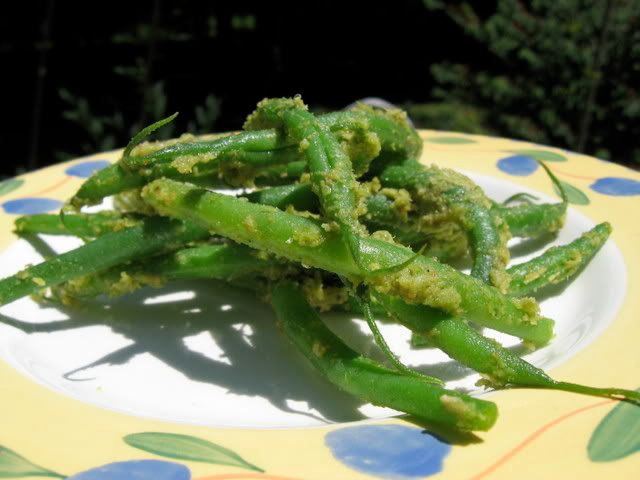 GARLIC SCAPE & TOASTED PUMPKIN SEED PESTO


[ Gluten-Free / Soy-Free / Dairy-Free / Vegan / Pareve ]



3 Tbsp lemon juice
1/2 cup pumpkin seeds, untoasted and unsalted*
Approximately 15 garlic scapes, raw or lightly sauteed
1/2 cup extra virgin olive oil
1/2 tsp sea salt
2 tsp nutritional yeast
Optional: ground black pepper to taste

Place pumpkin seeds in a dry, preheated skillet over medium flame. Stirring frequently, allow pumpkin seeds to toast until they brown slightly. They will puff up and start popping. Remove immediately from heat and pour into a bowl. Allow them to come to room temperature.

Cut scapes into 2 inch pieces. Add all ingredients to food processor and blend until smooth. Add warm water or additional olive oil to thin, if desired.

*Note: If you use pumpkin seeds that you removed from a pumpkin yourself (as opposed to pre-packaged, dry pumpkin seeds), you may want to try this method for preparing them.


This recipe is part of the Weekend Herb Blogging event, hosted this coming week by Real Epicurean.