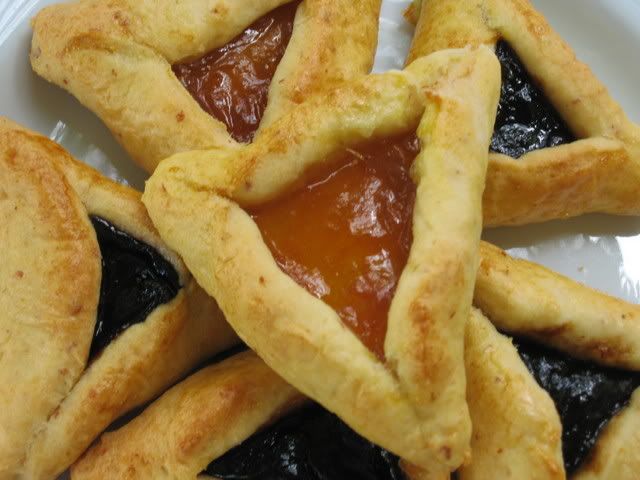 As usual, I am posting a holiday roundup just a day or two before the holiday. Oy, I am such a procrastinator. Hopefully this will still come in handy for some of you. I notice I'm getting a huge number of hits for "gluten-free hamentaschen" / hamentashen, hamantashen, etc. So I thought I'd make it easier for you to find my Purim-related postings as well as some postings by some other blogs.
If you're looking for gluten-free hamantashen recipes:
My recipe for
Gluten-Free Hamantaschen
made with no-refined sugar. I love this recipe and am sad I haven't had the chance to make it this year. I've gotten very good feedback on this recipe - If you try it please let me know how it works for you!
Elana's Pantry has a vegan, refined-sugar-free, grain-free recipe for
Gluten-Free Raspberry Hamantaschen
that you might be interested in if you have multiple food restrictions.
Or maybe you'd like to try an
Adaptation of a Chabad Recipe for Gluten-Free Hamantaschen
.
About.com also offers
a recipe
.
If you'd like to order gluten-free hamantaschen online:

Heaven's Mills Gluten-Free Hamantashen
Katz Gluten-Free Raspberry Hamantaschen
(I ate these today!)

If you're looking for ideas for gluten-free mishloach manos:
My list of ideas for creative gluten-free mishloach manos can be found
here
. Think outside the box!
If you're a Jew with food allergies or intolerances and/or celiac disease:
Consider joining the
AllergicJews
listserv, on which other Jewish (kosher and non-kosher) folks with food restrictions share recipes, ideas and resources.