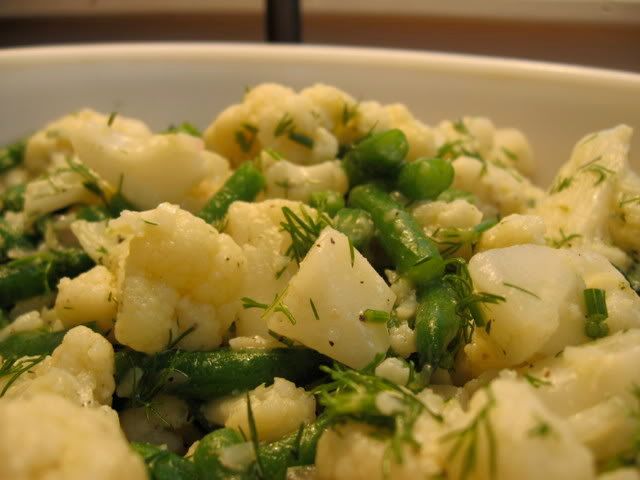 I've been having quite a hankering for German potato salad - Specifically, my "famous"
Herbed New Potato Salad with Green Beans
. Unfortunately, potatoes are super high-glycemic and are not considered "good" carbohydrates, and thus are verboten on the South Beach Diet, any low-carbohydrate diet, and the Glycemic Index / low-gylcemic approach to eating. What's a serious potato lover to do?
Cauliflower
!
I love cauliflower. I always have. Since eating a lower-glycemic diet I've been cooking my
Lemon-Roasted Cauliflower with Dill
and other roasted cauliflower recipes quite a bit. Another favorite cauliflower dish is my
Aloo Gobi Mattar (Indian Potato, Cauliflower & Pea Curry)
which I will also try making without potatoes one of these days.
Simply by replacing new potatoes with small florets of cauliflower boiled until tender, I was able to re-make this recipe into something healthier, more nutrient-dense and dramatically lower carbohydrate, without compromising the taste. I loved this salad, and it was even better a day and two days later when the cauliflower and beans had absorbed more of the marinade overnight.
I make a lot of salads and vegetable dishes that can be eaten cold on
Shabbos
since I don't cook on the sabbath. So I made this Friday to eat with my dinner, but also ate it for part of my lunch on Saturday. Heck, I even ate it for breakfast!
HERBED CAULIFLOWER & GREEN BEAN SALAD


[ Vegan / Dairy-Free / Pareve / Soy-Free / Gluten-Free ]
2 large heads of cauliflower

2 1/2 cups green beans, cut in thirds
2 Tbsp salt
1/4 cup minced fresh chives
3 Tbsp minced fresh dill
3 Tbsp dijon mustard
3 Tbsp apple cider vinegar
1/2 cup extra-virgin olive oil
1 large shallot, minced
1 tsp agave nectar, sugar or equivalent non-sugar sweetener
1 tsp freshly ground black pepper

Optional: Minced fresh flat-leaf parsley to taste


Combine all ingredients except cauliflower and beans in a large bowl. Wash cauliflower well and cut into 1/2 inch pieces. Cover with water by several inches in a large pot, and add 2 Tbsp salt. Bring to a boil, then reduce heat to medium-low and simmer until the cauliflower are tender without being mushy. Do not turn heat off, but transfer cauliflower into a colander immediately, and rinse with cold water several times. Allow to cool just until they are warm but can be comfortably handled.

Turn the heat up under the pot of water and add green beans. Cook uncovered for just a few minutes, until green beans are tender but still crisp and bright. Remove from water and drain. If you want to retain the brightness of their color, submerge them immediately in ice-water until cooled.

Add beans and cauliflower to the large bowl that contains dressing. Toss very gently to combine, stirring from the bottom to coat cauliflower and beans with the dressing. Allow to sit for 20 minutes before serving. Garnish with additional chopped herbs if desired. Serve while still warm, or at room temperature.

This recipe is part of the Weekend Herb Blogging event, hosted this week by Swirling Notions.